We amplify the story, voice and power of global youth.
Our History:
Founded after 9/11 as the Americans for Informed Democracy, AMP Global Youth was created by Marshall Scholar Seth Green to create a platform for youth to discuss the rapidly evolving state of American global engagement and the role of global youth in tackling tomorrow's greatest challenges.
Our Team:
We are a youth-powered network committed to making a better future crafted by the unique energy of youth. We believe that:
– youth are powerful
– we are all connected, locally and globally
– together we can build a more just and sustainable world
– we have an obligation to speak out and take action around global issues that impact our generation
We've engaged over 100,000 youth in dialogue, training and actions around global issues since 2002.
Our Work:
Global Scholar
-Apply now!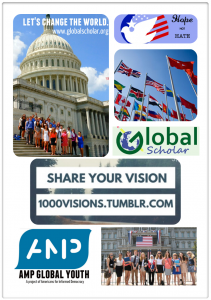 A two-week, intensive global leadership program for high school students in the nation's capital.
#BeGlobal
-Check link for global opportunities!
Sharing global opportunities with our equally global audiences.
A campaign to spread religious tolerance amongst youth.
A campaign to share the hopes and dreams of global youth for their shared future.
An online bootcamps for aspiring young leaders and change-makers.
Sharing the thoughts and opinions of tomorrow's leaders on current events.
Join Us:
–
Donate
: We rely on public donations to keep our organization and programming running strong.