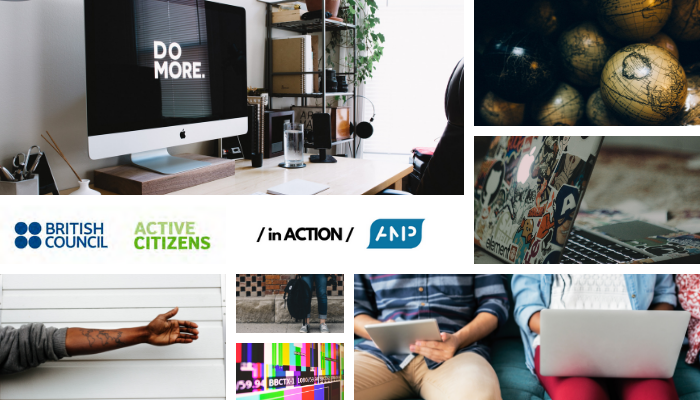 Turn up the action.
Are you passionate about local and global challenges such as immigration, food security, education, homelessness, unemployment, or something else? Maybe you're really passionate, hopeful, or angry about the injustices you see in your local and global community every single day – but you don't know where to start? There are so many reasons why we might get stuck in inaction, but there are so many more reasons why there has never been a better time to take action! One of those reasons is that AMP Global Youth and the British Council USA have teamed up to bring you a collaborative curriculum in social action: Active Citizens in Action!
Active Citizens in Action is a leadership training program in social change-making and community-led development. This program takes local and global change-makers on a learning journey of identity, intercultural dialogue, community-building, systems thinking, and project management. Through a series of fun, engaging, and interactive online workshops, you'll gain the skills, knowledge and tools you need to be a more confident leader and changemaker in your community.
The virtual curriculum is made up of four modules: Identity and Culture; Intercultural Dialogue; Local and Global Communities; and Social Action Planning. These modules serve as the building blocks of social action, project, and/or campaign that participants want to see create change in their local community. Through the Active Citizens program, participants not only receive expert training for the design and delivery of their initiative, but they also receive post-program mentorship and coaching. Delivered in partnership with the British Council, Active Citizens in Action is a nonprofit program that is free of charge for community organizers; student leaders; young and emerging change-makers; untapped, underserved, and seldom heard communities; marginalized and minoritized groups, and anyone else working to improve the lives of others.
Through fast-paced and small-group workshops participants will:
Gain a better understanding of the concepts of identity, culture and community, as well as the attitudes, beliefs, and behaviors of themselves and others.
Learn methods of dialogue as a tool for building empathy, trust and understanding within and across cultures.
Identify a problem they would like to address and plan a social action project to do so.
Meet new people, build confidence, develop their CV and make a difference in their community.
The training program will take place virtually using Zoom and Google Drive. Our virtual workshops are completely free of charge and will take place every week, for three hours on Sunday, over the course of 8 weeks.
Dates for Spring 2019:
3rd February, 12pm EST
10th February, 12pm EST
17th February, 12pm EST
24th February, 12pm EST
3rd March, 12pm EST
10th March, 12pm EST
17th March, 12pm EST
24th March, 12pm EST
Join us for this life-changing experience. Space is very limited. Scroll down to apply! Email us with questions: opportunities@AIDemocracy.org.
For more information, please contact Karen at karen@aidemocracy.org and/or Vanessa at vanessaf@aidemocracy.org
Active Citizens in Action is led by:
Vanessa Faloye | Chief Trainer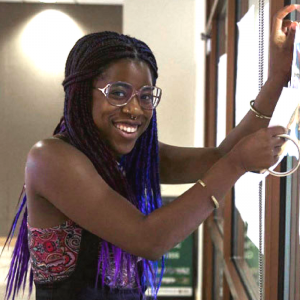 Vanessa is a trainer-facilitator, curriculum developer, and project coordinator in social impact education. She works with AMP in designing and delivering the AMP Action Lab, Global Scholar, and AMPlifier virtual trainings for global youth. Her curricula span anti-oppression; systems thinking; and social action as ways to educate and inspire systems-level social change. In her non-existent spare time, she also does motivational speaking and blogging on social innovation. Vanessa has a double honors bachelors degree in International Relations and Spanish and a post-graduate certificate in Social Enterprise and Innovation. She is really passionate about traveling, reading, and speaking Spanish.