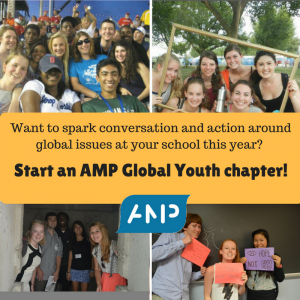 We understand that there are people in this world that see injustice and choose not to ignore it. They are the doers, the risk-takers, the organizers, the mold-breakers. They seem like just another face in a crowd, but they have the potential to be the voices of the next generation. If they are given the right tools, mentors, and opportunities, they can help change the world. Are you willing to take up the challenge?
Create your own network of action-oriented leaders. AMP Global Youth Chapters are groups of globally conscious students taking initiative on their campuses and community. They are tenacious community builders, conversation starters, and advocates for the global issues that young people face today. These are the new generation of leaders who are ready to transform the current system.
We will begin accepting proposals to start a chapter on your campus in April, and applications close in December. Complete the form below or contact us at opportunities@aidemocracy.org to get started! We're looking forward to reading about your vision and supporting your work.
The AMP Chapter Guide. This is the holy grail for all things organizing.
Swag for your team! (stickers, your first meetings' food is on us, and more)
Monthly calls, to network with other young leaders, AMP staff, and the AMP Board.
Training opportunities. Special access to Global Leader, our highly-reviewed online training program, and mentorship provided by experienced workers in fields like organizing, online activism, academia and more.
We will give you the platform and the tools in order to raise awareness about your desired issues through online campaign content created by the AMP network. Two campaigns are created every semester, and you as a chapter have the opportunity to participate in grassroots organizing by spreading our messages on your campus.
10 free spots to play the Culturama virtual intercultural game, connecting you with youth in the Middle East and launching Fall 2017.
Marketing through AMP's social media platforms and access to the AMP blog. Amplify your impact by getting your message online – you have the option to use our editors and their guidance.
Content creation and skills development. For more established chapters, you have the opportunity to develop marketable tech skills and create content that incoming chapters will use as training tools. Examples include videos, photos, graphics, etc.
Chapters normally:
Have a name, mission, and objectives. I.e. they have something they're trying to do in a given semester or year. Of course, that "something" can be as easy as hosting two conversations around global issues, for example. But having clear goals will keep you on track.
Have dedicated leadership, committed to making sure things happen. A chapter should have at least two people excited about the work and on board to make things happen during the semester or year. Leading a group is a fun experience which will help you build your skills in many ways. And don't worry, we have lots of resources to support chapter leaders.
Organize at least one event/semester. Remember, events can be as easy as hosting an informal lunchtime conversation on a given topic one day or as formal as bringing in a guest speaker. But as a chapter, you should plan on doing things, as it will help you achieve your objectives, practice your leadership skills, and grow your membership.
We have a chapter guide that you can download below with all of the info you need to start a chapter of AMP Global Youth on your campus. We will be adding more resources to this guide and to this page, so stay tuned!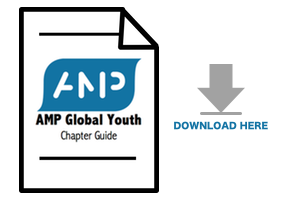 Some frequently-asked questions:
Q: Can I launch a chapter in my high school?
A: Yes! We work with everyone from high school to young professional. If you identify as a youth and have a community in which you'd like to organize a chapter, you're welcome to join us. A community can be a school, religious organization, neighborhood, etc.
Q: How much money do I need to get started?
A: In our opinion, none. Most of the time you can bring people together and organize events/campaigns for free. Although be aware that many schools provide chapters with funding, so take advantage of that too if you can!
Q: Can I launch a chapter in another country?
A. Yes, you can! We've had leaders take on AMP Chapters from as far as Morocco.
Interested? Please sign up here and we'll be in touch to discuss details! We're so excited to hear from you!