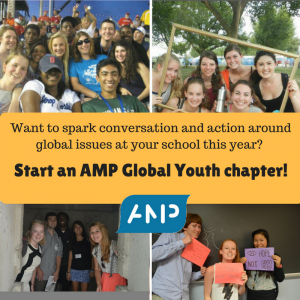 AMP Global Youth chapters are groups of globally conscious students talking about global issues and taking action on their campuses and/or community. They build community and spark conversation around global issues.
Starting a chapter is easy! Chapters usually organize at least one event/semester, which could be anything from a film screening to a service project. You can found a new group, or add the AMP affiliation to an existing group (or chapter of another organization). We're just excited to support your good work.
Interested in joining us? We accept new chapters year-round. Complete the form below or contact us at opportunities@aidemocracy.org to get started!

Chapters receive:
A handy Chapter Start-Up Kit, with lots of resources on getting your group started, organizing events, and more.
Monthly calls to help you brainstorm ideas, learn from other chapter leaders and AMP staff.
Event and campaign ideas. We launch national campaigns every semester, and we'll share our plans as well as ideas for how you can implement them at the local level.
Training opportunities. Special access to Global Leader, our highly-reviewed online training program.
Special early invitation to play the Culturama virtual intercultural game, launching in 2016-17.
Marketing / promotion through AMP's social media platforms. When you come up with a creative idea or host a great event, we'll help get the word out!
Content creation. For more established chapters, you have the opportunity to create content that incoming chapters will use as training tools. Examples include videos, photos, etc.
Chapters normally:
Have a name, mission and objectives. I.e. they have something they're trying to do in a given semester or year. Of course that "something" can be as easy as hosting two conversations around global issues, for example. But having clear goals will keep you on track.
Have dedicated leadership, committed to making sure things happen. A chapter should have at least two people excited about the work and on board to make things happen during the semester or year. Leading a group is a fun experience which will help you build your skills in many ways. And don't worry, we have lots of resources to support chapter leaders.
Organize at least one event/semester. Remember, events can be as easy as hosting an informal lunchtime conversation on a given topic one day or as formal as bringing in a guest speaker. But as a chapter you should plan on doing things, as it will help you achieve your objectives, practice your leadership skills, and grow your membership.
Contact us at: opportunities@aidemocracy.org to get started!

We have a chapter guide that you can download below with all of the info you need to start a chapter of AMP Global Youth on your campus. We will be adding more resources to this guide and to this page, so stay tuned!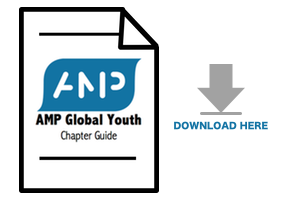 Some frequently-asked questions:
Q: Can I launch a chapter in my high school?
A: Yes! We work with everyone from high school to young professional. If you identify as a youth, and have a community in which you'd like to organize a chapter, you're welcome to join us. Community can be a school, religious organization, neighborhood, etc.
Q: How much money do I need to get started?
A: In our opinion, none. Most of the time you can bring people together and organize events / campaigns for free. Although be aware that many schools provide chapters with funding, so take advantage of that too if you can!
Q: Can I launch a chapter in another country?
A. Yes you can! We've had leaders take on AMP Chapters from as far as Morocco.
Interested? Please sign up here and we'll be in touch to discuss details! We're so excited to hear from you!