7:45am: Wake up to the sound of our Coordinator singing "Good Morning Scholars!" in the hallway. How does he have so much energy this early?? I'm going to try to squeeze in a few more minutes of shut-eye …

8:00am: I'm up! I grab my towel and head to the bathroom to get the best shower. It's so nice not having to queue up despite there being so many of us! I get dressed, pack my Global Scholar binder, a pen, and other stuff. Then I head down to breakfast and there is so much food to choose from. I wait in line for my favorite: omelette. Unfortunately it's everybody else's favorite too so this might take a while. I join everyone else at the usual dining table, where they're laughing about a game we played last night. After some tea and juice, I clear up my plate, check my timetable, and we all head to the East Quad for our first workshop of the day.
9:00am: As usual, Vanessa bursts into the room with way too much energy for a Wednesday morning. She gets us on our feet and we do some quick energizers to 'get into the zone'. Today we're learning about Diversity and Inclusion. We do some really interesting hands-on activities that highlight how society can treat us very differently depending on our identities. It's really nice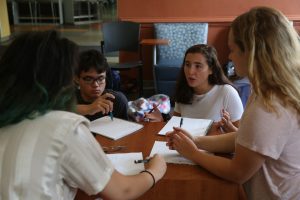 to be able to talk about these things in an open and honest way. We delve deep into difficult topics like prejudice, stereotypes, and privilege and I hear some really shocking things about people's everyday lives simply while learning a surprising thing or two about my own. The conversation isn't always easy and we don't always agree on everything but Vanessa is really good at helping us critically question our own thoughts alongside the thoughts of others. Diversity is not always easy but it's not a bad thing to be different, in fact, life at Global Scholar might be really boring if we were all the same.
12:00pm: It's lunch time already but I'm not complaining. The food is actually really good here and there's so much to choose from that there's definitely something tasty for everyone. And let's not forget dessert! Cookies, cakes, muffins, ice cream, yogurt, and fruit. I take two (or three) extra cookies wrapped in napkins for snacks later on. Just enough time to go back to my room and change into some more formal clothes, we're going to the Aspen Institute for a panel discussion on Global Security.
1:00pm: It's pretty hot but there's some shade and luckily we don't have to wait long for the shuttle bus to the Metro. Our entire Global Scholar squad fills up the whole bus making the journey really fun. I've met some really great people here and I know we'll stay in touch. As we near the stop, Rachel and Katherine give each of us our metro card and it's a minute's walk from the bus stop to the station to the platform and a couple of minutes later the train arrives. I notice that D.C. is an incredibly diverse place, in this car alone there is every kind of person which makes it a pretty cool place to live.
1:45pm: We arrive at the Aspen Institute and some of the girls take a minute to change into their heels. We receive our visitor badges and squeeze into a very shiny elevator – these buildings are always so big and majestic-looking that I'd love to work in a place like this. We are formally greeted and welcomed into our conference room where there is tea and coffee waiting for us. The panelists are smiling at us which is nice, they're nowhere near as scary as I thought.
2:00pm: Karen formally opens the event by welcoming everyone into the room and introducing the speakers, all experts in their field. Karen gives some background information on the topic of Global Security and then we jump right in. The panelists introduce themselves and their professional backgrounds – I make some quick notes on a few questions I'd like to ask them afterwards about how to kickstart my career in D.C.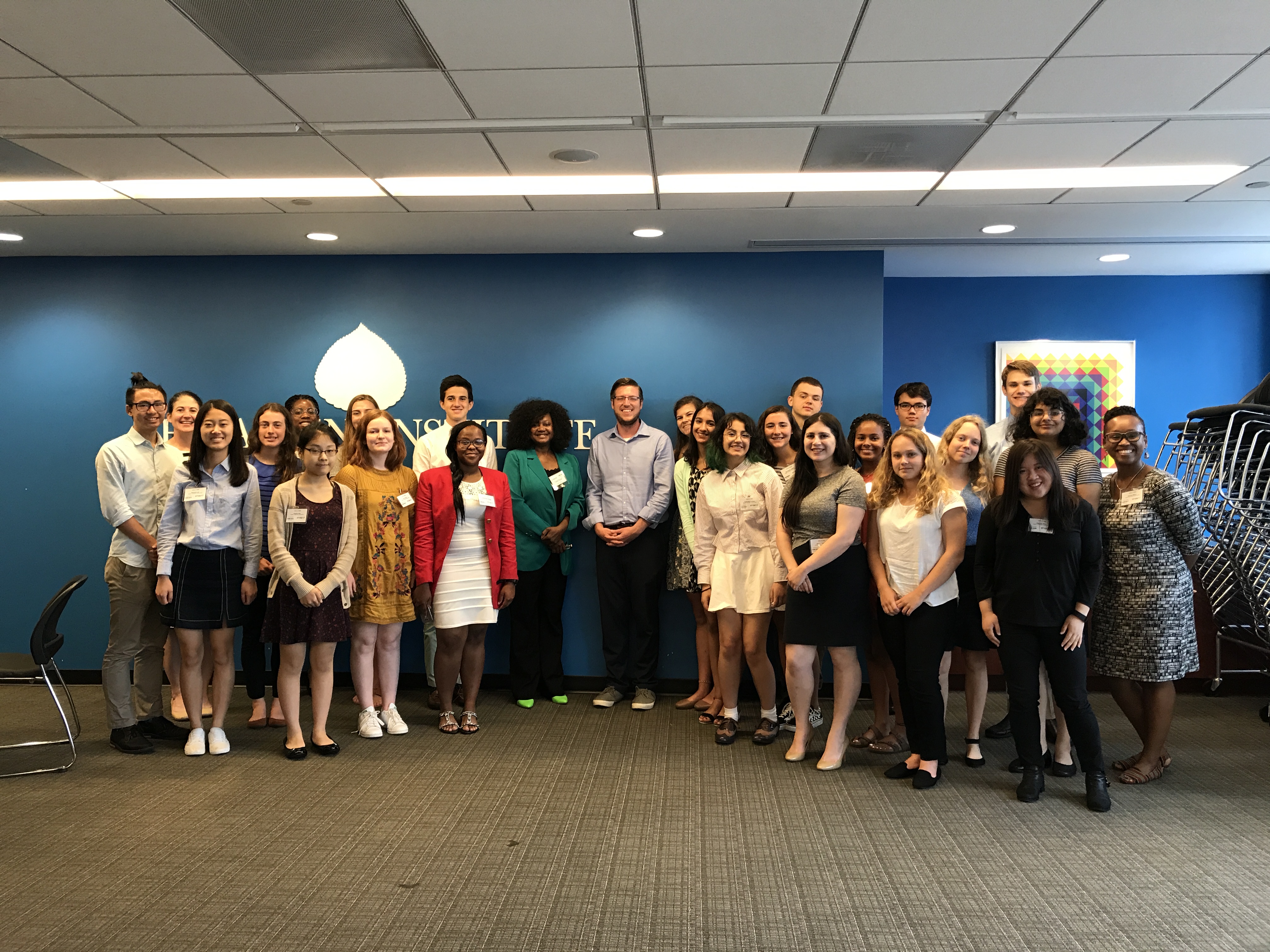 Then we get into the nuts and bolts of Global Security and we can't stop asking them questions, it's so interesting we could be here all day!
3:15pm: That was such an insightful discussion on Global Security. We spoke about so much including North Korea, nuclear weapons, chemical warfare and climate change. Clearly these 21st century issues are extremely layered and complex which makes me want to work in global affairs and social justice even more… it would never be boring and there's never been a more important time to act. We get a bit of time to ask a few one-one-one questions with the experts, they even give me their business card and tell me to get in touch if I ever need any help in the future. After some quick networking, we have a quick debrief to pull together our thoughts from the panel discussion – usually we do this in pairs everyday to bounce around key takeaways but today we do it as a group because everybody has so much to say!
4:00pm: A quick bathroom stop to change into our less formal clothes before handing in our visitor badges and heading downtown. We have some free time to go and see a live cultural performance at the JFK Center for the Performing Arts that everybody has been talking about. With Katherine and Rachel leading the group, we hop on a shuttle bus and take in the city sights along the way!
5:00pm: When we get there, we are speechless. The building is truly a sight to see, it's absolutely huge huge and so beautifully decorated with all the flags of the world. We walk around to explore for a little while and make our way out onto the balcony to see the river and the whole of Washington D.C. laid out before us. D.C. really is a nicely put together city to enjoy as a tourist. There is just so much to see which is obvious from the dozens of people having a picnic by the water or doing some crazy water sports that I don't even know the name of on the water!. After many selfies and group photos, we head back inside to find our seats together so that we can enjoy the show.
6:00pm: What a performance! And now what an appetite! We get given three different options for nearby restaurants we want to eat dinner at and so we debate and discuss for some time and finally come to a decision. We split up to go and order our food and then we all come back together to eat together. We refill our water bottles to keep on top of staying hydrated in the heat and then we sit and enjoy letting the sun begin to set and our stomachs begin to digest. 
8:00pm: And there's just one more surprise of the day. A boat tour of the city's finest silhouettes… With friends and my cookies from lunch – I couldn't think of a more wonderful treat.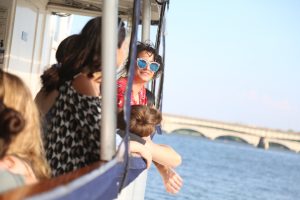 10:30pm: Back on campus and home sweet home. We stay up in our dorm common room talking about all kinds of things from the day's events. Some of the group put on a short documentary and some popcorn before it's lights out but I'm pretty tired so it's bedtime for me as it's another jam-packed day tomorrow. I set my alarm for 7:45am and I close my eyes knowing my real alarm clock is going to once again be Michal, singing us good morning as we jump into another exciting day …

*based on a typical day of the Global Scholar program.
Hear straight from our Global Scholar alumni in this short video where they share their favorite moments of Global Scholar 2017!!