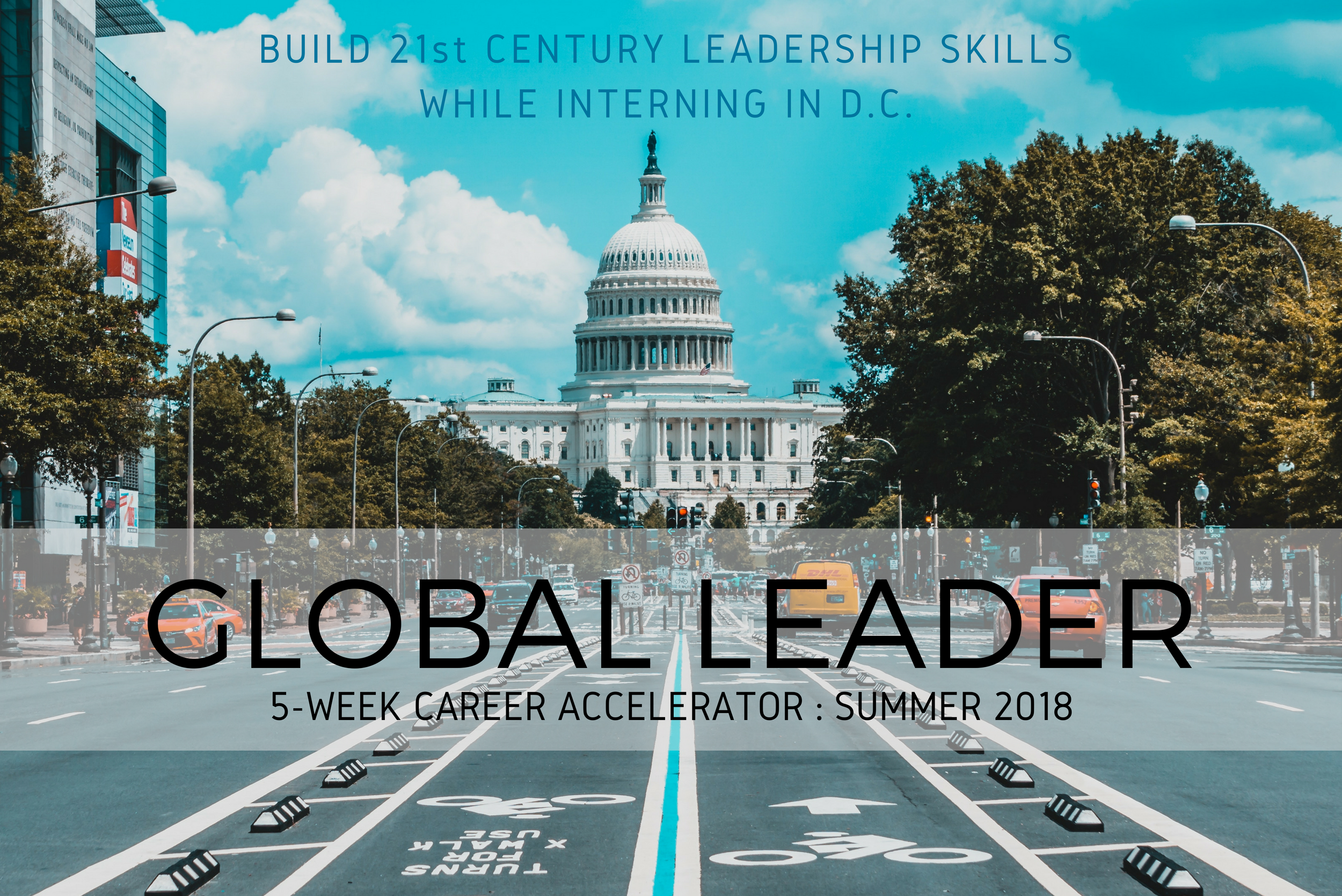 Global Leader is a career development and leadership accelerator that builds 21st century employability skills for college students and young professionals interning in Washington, D.C. Through experiential workshops and expert-led seminars, Global Leader prepares entry-level interns for a future of work in the field of international affairs and development. The 5-week curriculum is a part-time course designed around internship commitments; with modules in Diversity and Inclusion, Complex Problem-Solving, Strategic Communications, Entrepreneurship, and Career Mapping. Delivered by our expert trainers, the Global Leader program is a highly marketable add-on to professional resumes and job and college applications for ambitious change-makers looking to leverage a high-impact career.
About Global Leader
Global Leader is a new training program, launched by AMP Global Youth in the summer of 2018. Based in Washington, D.C., our small and selective cohort of young professionals learns what it takes to enter the fast-growing field of international affairs and development in the very place where careers get made.
The Global Leader Approach
Global Leader offers a specially curated, modular yet dynamic curriculum for high achievers and young emerging leaders looking to stand out from the crowd and stay one step ahead. The learning experience lays the foundation for an high-impact career with experiential workshops run by AMP trainers and intimate seminars hosted by expert professionals. Over the course of our 5-week part-time program, our Global Leaders build knowledge and skills around:
Diversity and Inclusion: In an increasingly globalized world, diversity and inclusion is an important practice for businesses and organizations looking to stay ahead of the social, economic, and innovation curve. Like this, diversity and inclusion becomes an important knowledge base for entry-level employees in the working world of today and tomorrow. This module offers an anti-oppressive understanding of identities and the ways in which we can create shared spaces that are equitable and inclusive for all.
Complex Problem-Solving: In the face of global challenges and artificial intelligence, the ability to solve problems is more and more in demand. Our future workforce must be equipped with the tools to deeply understand systems-level issues at their root cause by embracing the complexity and connectivity that characterizes our modern-day context.
Strategic Communications: Communications skills are necessary for almost any international career setting, in whatever medium. This module builds a suite of communicative art forms to strategically pick and choose from, including; persuasive writing, public speaking, pitching, debating, press release writing, and blogging. Here the focus is not the needs of the speaker, but the needs of the audience as the most important skill-builder here is empathy.
Entrepreneurship: The entrepreneurial skill-set has been exponentially trending for the past decade regardless of the field, sector, or industry. While it is usually associated with starting up a business independent of any established organization, financially-constrained organizations in the third sector have turned to social enterprise as the answer. This module offers a version of entrepreneurship that is suited for the workplace and focuses on building a business from the inside out – also known as intrapreneurship.
Career Mapping: While the labor market has experienced chronic youth unemployment and underemployment, the range of job types has also widened in the digital age. As a result, entry-level youth have much more choice but much more responsibility to make the smart choice – for a career which fulfills their wants and needs. This module supports participants in having a career conversation around the problem they want to solve, the ecosystem they want to enter, and the opportunities that lay at their disposal.
Dates and Fees:
Application deadline: Rolling, but space is very limited.

Program dates:
Sunday July 1st, 9am-4pm
Thursday July 5th, 4pm-7pm*
Thursday July 12th, 4pm-7pm*
Thursday July 19th, 4pm-7pm*
Saturday July 28th, 10am-6pm
Location: The American University, Washington, D.C.
Program Fee: $485
Fee includes all program and materials fees.

We are committed to helping students attend regardless of their financial means. Every year we offer partial scholarships to approximately 40% of our class. Regardless of your socioeconomic circumstance, please do apply and we will be happy to discuss financial assistance as a way of enabling your participation in the program.
*We will work in collaboration with you and your employer to secure the time that you need to attend the Thursday evening sessions for your professional development and, consequently, that of your organization. We will also help you approach your employer about paying part of or all of the program fee to enable you to attend.*
AMP Global Youth has 15 years of experience empowering youth to understand and speak out about global issues. More than 100,000 students have participated in our various programs. Throughout the years, our global youth alumni have continued to engage with our rapidly growing network of global student leaders. #beAMPbitious
Find more information about housing, staff and more on our FAQ page. Please contact Vanessa at vanessaf@aidemocracy.org with questions. We hope to see you this summer! #beAMPbitious
Apply to Join Us!