Our Scholars say it best! Check out this great recap video created by one of our fab alums!
The Global Scholar curriculum centers on two goals:
Understanding global challenges facing our generation

. We meet with experts to explore security, poverty, climate change, global hunger, genocide, the rights of women and girls and much more. We also unpack the role of the United Nations, the G8, the World Bank, corporations, citizens and, of course, youth.

Building young global leaders.

Through workshops covering basics like public speaking, policymaking, group dynamics and strategic communications, Global Scholars learn how to inspire change and lead action. They put these skills into practice through our unique Action Lab as well as through various leadership development opportunities.
Policy Seminars and Panels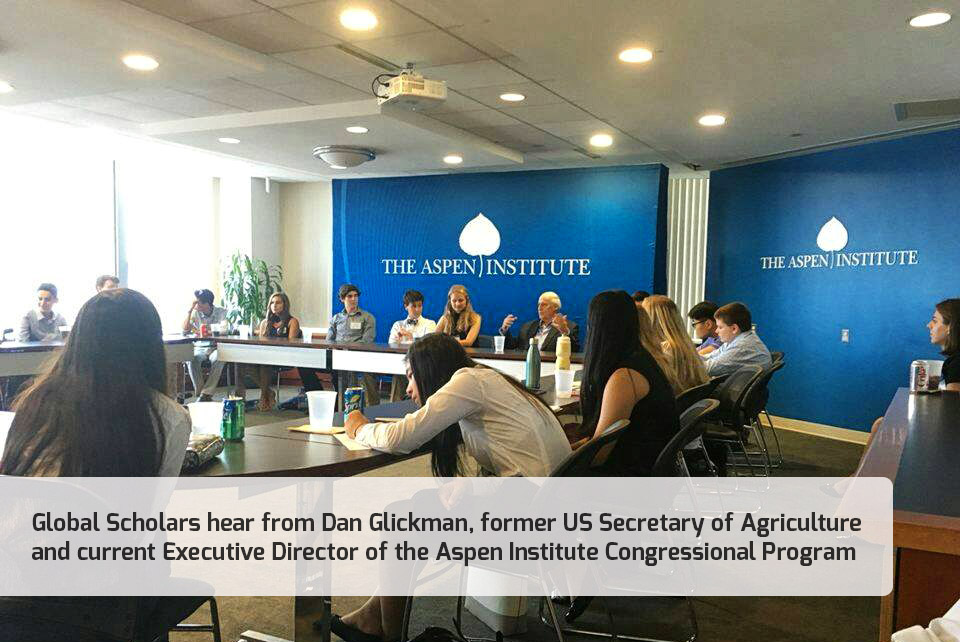 Through small-group meetings and multi-sector panel discussions with policy experts, Global Scholars gain a rich understanding of the greatest challenges facing our generation. Recent sessions have included:
"International Relations for the Student Leader"

"Promoting Human Rights, and the Development of Women and Girls Worldwide"

"Hunger Is Not a Game: The Relationship Between Hunger, Climate Change and Youth"

"The US Relationship with the Muslim World"

"The Global Financial System: the Role of Corporations, Banks, Donors and the International Financial Institutions"
Action Lab Workshops
Our signature Action Lab workshops provide rising young leaders with powerful, marketable and life-changing skills they'll need to spark action and lead change. Topics include: Diversity & Inclusion; Systems Thinking; Dialogue and Empathy Mapping; Strategic Planning for Social Action; Strategic Communications and Storytelling; and Action Planning. Leadership development is a big part of the Global Scholar experience. Through workshops, group work, and daily activities Scholars learn and practice skills for building teams, facilitating conversation, inspiring their peers, and more.
Speakers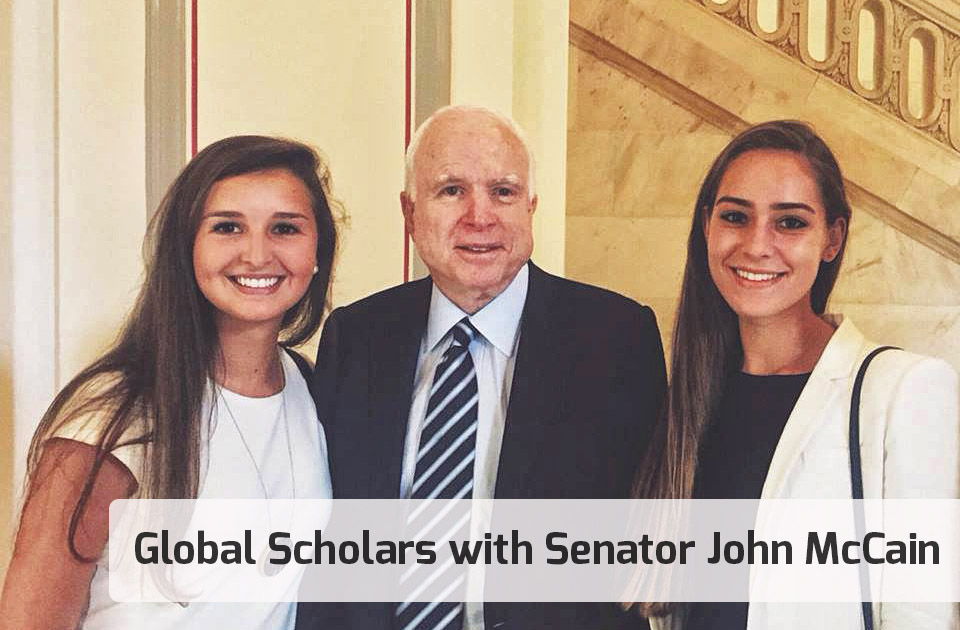 Scholars learn directly from foreign policy experts. In recent years, we have met with a powerful mix of leaders and organizations representing many sectors and issues. Recent speakers include Ambassador Bonnie Jenkins, Special Coordinator for Threat Reduction at the U.S. Department of State; Dan Glickman, former US Secretary of Agriculture; Senator Heidi Heitkamp (R-ND); Ken Banks, social entrepreneur and founder of Frontline SMS; and Ambassador from Niger Hassana Alidou.
2019 Speakers and Sessions Included:
Washington, D.C.:
Perspectives in Human Rights. Bama Athreya, Brookings Institution
Youth & Global Health. Nicole Gill, Advocates for Youth
Conversation with Ambassador Liberata Mulamula. Ambassador Liberata Mulamula, Former Tanzanian Ambassador to the US
Advancing Human Rights: Perspectives from the Grassroots. Fadimata Walet Inorene, Save the Children and Grace Fernandes, STAND Now
Embassy of Cameroon
Nuclear Security. Ambassador Bonnie Jenkins, Brookings Institution
Access to Education. Jennifer Rigg, Executive Director, Global Campaign for Education
The United Nations and Sustainable Development Goals. Taylor Gates, UN Foundation and Anna Mahalak, Youth Engagement Manager, United Nations
Understanding the World Bank. Nadia Merdassi, Program Officer, World Bank
Embassy of Belgium
Immigration and Refugees. Josh Utter, Jesuit Refugee Services
Global Poverty and Inequality. Ken Patterson, RESULTS JRS
Climate Change. Tan Copsey, Climate Nexus
Careers in International Affairs Panel I. Mo Alem, Young Invincibles, Parul Agarwal, World Bank and Briana Suarez, APSIA
Careers in International Affairs Panel II. Brionne Dawson, US Chamber of Commerce, Mariya Ilyas, US Department of State, Gordon Wong, ONE Campaign and Briana Suarez, APSIA
Climate & Security. Neil Bhatiya, Center for a New American Security
International Development in Africa. Kwaku Nuamah, American University
Global Poverty and US Foreign Assistance. Gordon Wong, ONE Campaign
US Department of State. Deborah Schneider and Jasmine White Gibson, US Department of State
Global Security. Greg Gershuny, Energy and Environment Program, Aspen Institute, David Forscey, Cyber and Technology Program, Aspen Institute and Jonathan Price, Aspen Strategy Group, Aspen Institute
Embassy of Colombia
Frederick Douglass House
Supporting Children and Ending Hunger. Rachel Merker, First Focus
Embassy of Niger. Ambassador Abdallah Wafy, Embassy of Niger
Mexican Cultural Institute. Sebastian Corrales, Public Relations Officer, Embassy of Mexico
New York City:
Access to Education. Jennifer Rigg, Executive Director, Global Campaign for Education
Unifying the Playing Field: Local and Global Movements to Advance the Right to Education. Ford Foundation
Understanding the United Nations and the SDGs. Charlotte Platt and Johan Rifai, UN Foundation
Challenges to Global Health. Doctors Without Borders
Water Access. Annalise Bourgeois, Charity: Water
Financing for International Development. Oliver Schwank, Senior Economic Advisor, United Nations
Global and Nuclear Security. Karim Kamel, Carnegie Corporation
Careers in International Affairs. Sampson Oppedisano, The New School and Aisha Mitchell, Global Health Corps
Understanding Immigration Challenges. Ella Nimmo, Cabrini Immigrant Services
Protecting and Promoting Human Rights: Women's and indigenous Rights. Fadimata Walet Inorene, Save the Children and Grace Fernandes, STAND Now
Journalism and Digital Privacy. Jennifer Valentino Devries, The New York Times
Interfaith Organizing and Action. Frank Fredericks, WorldFaith
We would like to extend our gratitude to our 2018 Global Scholar partners and speakers:
Ambassador Bonnie Jenkins, Brookings Institute * Jim Riker, University of Maryland * Ambassador Hassana Alidou, Embassy of Niger *Naomie Pierre-Louis and Dr. Weibert C. Arthus, Minister Counselor, Embassy of Haiti * Embassy of Mexico * Embassy of Burkina Faso * Donata Secondo and Chris Crawford, Democracy Fund * Giulia McPherson, Jesuit Refugee Services * Daniel Tutt, Unity Productions Foundation * Mac Hamilton, STAND * Andrew Slack, Imagine Better * Lily Mengesha, Jesuit Refugee Services * Jennifer Rigg, Global Campaign for Education * Patricia Langan, Save the Children * Tony Stephens, American Council for the Blind * Damiana Astudillo, Millennium Challenge Corporation * Rachael Leman, Care.org * Anna Mahalak, UN Association * Chitra Panjabi, SIECUS * Beverly Wheeler, DC Hunger Solutions * Jonathan Price, Aspen Institute * Lena Minchew, International Women's Health Coalition/Girls Not Brides USA * Mark Bromley, Council for Global Equality * Sara Shirzad, Eurasia Foundation * Alexandra Toma, Peace and Security Funders Collaborative * Neil Bhatiya, Center for a New American Security * Patty Lovera, Food and Water Watch * Carmen Iezzi Mezzera and Enrique Sondakh-Dorantes, APSIA * Marques Anderson, Peace Corps * Scott Rechler, Director and CEO, Learn-Serve International * Tina Gaddy, Associate Director of Graduate Student Career Development, George Washington University Elliott School of International Affairs * Jorhena Thomas, Principal, Wright Thomas International * David Fletcher, Director of Career Services, American University School of International Service * David Devlin-Foltz, the Aspen Institute * Rachel Sims, National Democratic Institute *
Other recent speakers have come from such organizations as:
The Brookings Institution

The World Bank

The Millennium Challenge Corporation

The United Nations Foundation

The Aspen Institute
Save the Children
The Stanley Foundation

Refugees International

The Harry Potter Alliance

STAND (Student Network Against Genocide)

Oxfam USA

The Eurasia Foundation

Institute for Policy Studies (IPS)

Peace and Security Funders Group

Global Campaign for Education
GirlUp
National Democratic Institute

The ONE Campaign

DC Hunger Solutions
Democracy Fund

And many others
Extra-Curricular Highlights
In recent years Scholars have enjoyed performances at the Kennedy Center for Performing Arts, a D.C boat tour, a night walk around the National Mall, exploring D.C's world-famous Smithsonian museums, movie nights, and more. These activities rotate year-to-year.

Sign up for special our 4th July edition (Session 1) and celebrate Independence Day like you've never celebrated it before! (This session is very popular and often fills up fast so reserve your spot asap.)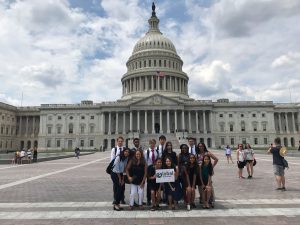 Meet the Global Scholar Directors!
Karen and Vanessa share their thoughts on what you'll take away from Global Scholar, and why they do this work!