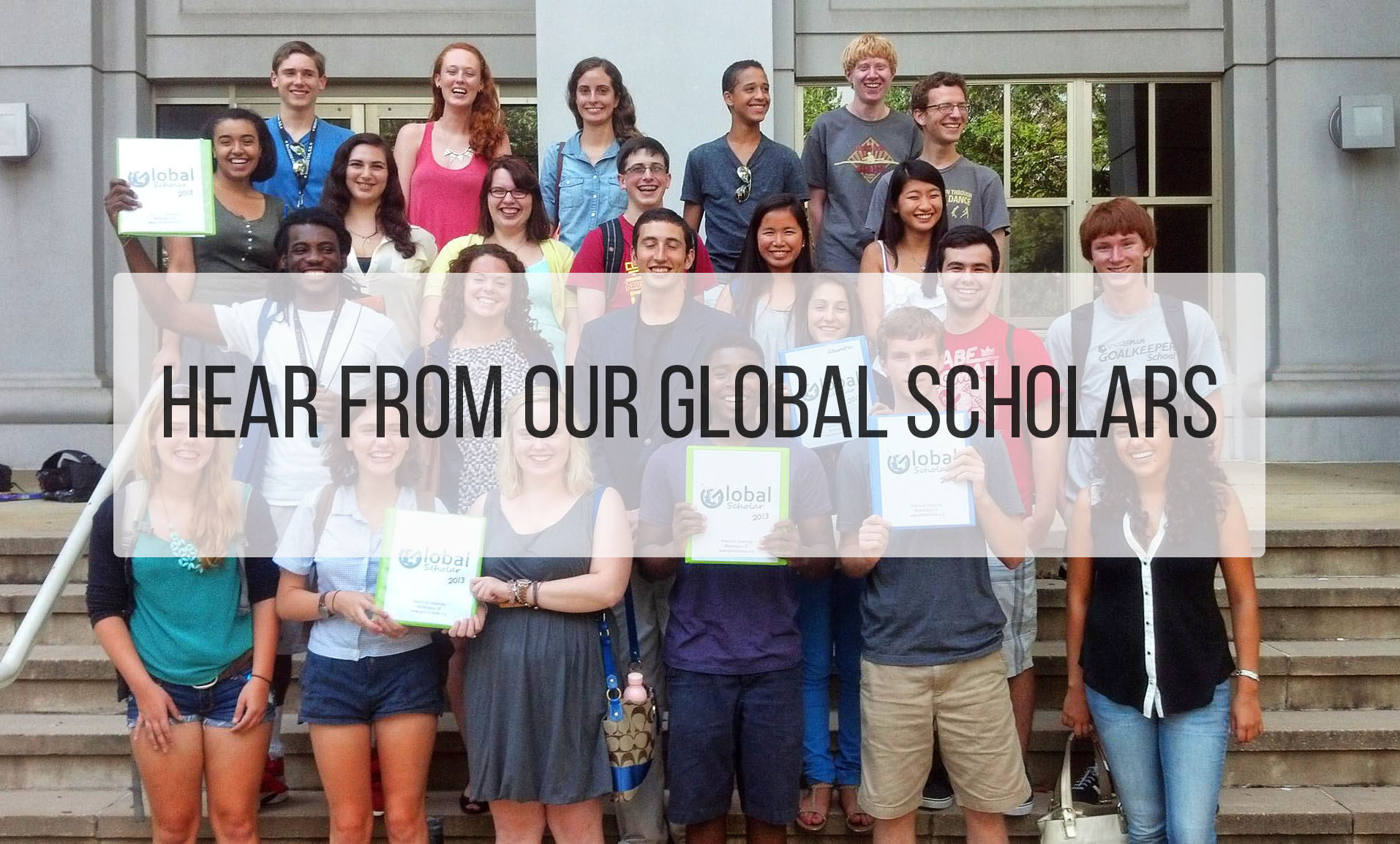 Global Scholar values our selectively small cohort of student leaders. Through our program's uniquely small size, Global Scholar is designed to help these young global leaders acquire the knowledge and skills they need through hands-on learning and meetings with leading policy experts. Year after year, our participants increase their understanding of new and continuing global challenges – all while building their confidence as leaders.
Global Scholar Alumni
"Global Scholar was a life-changing experience. We learned about many different global issues facing our generation, but we also learned about how the youth of today, as global citizens, can make a positive change in our world and actually work to put an end to these global issues. Being in DC and visiting embassies, NGOs, think-tanks, and others was not only exciting, but they showed us how diverse the field of international development really is. I never thought I could become so close with people over the span of two weeks, but I ended up meeting some of the most driven, curious, and friendly people ever! Global Scholar exceeded my expectations in every way, and I would do it again in a heartbeat."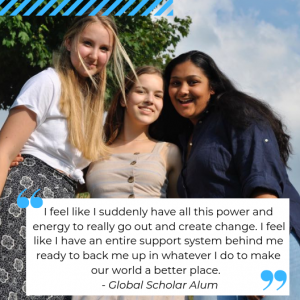 Quotes from last year's class:
I really just loved meeting and connecting with people who do what I want to do.
Global Scholar helped me learn more about global issues and how I can take action to address them.
It made me feel like a leader.
You can be the change in the world, but only if you actually put yourself to something that you really care about
be the change you wish to seek in the world
Those who learn are the future
It completely changed my perspective on the world and how to have an impact in it.
It's more than just global issues.
You have to follow whatever interests you–whatever "makes your eyes light up." (from career panel).
I have no delusions about what I have just experienced -I'm not a ready made President post global scholars, nor am I entirely knowledgeable on every subject. But I have been equipped with the skills I need to delve further and the information I need to be a game changer with a well rounded view of the world. Global citizenship is about my care and compassion not being confined to the boundaries of my home. I am ready to love openly and act widely.
You must remember that everybody has not had the same privileges and opportunities as you, and you must be aware, but not ashamed, of that.
Enlightening.
This program helped explore problems facing our generation and how to address them in the best way possible
Global Scholar brought together an incredible, inspirational group of young people that have already changed the world, and I can't wait to see how we continue to do so.
Global scholar helped me understand how to speak my mind
Additional testimonials about the impact of our training programs:
Vanessa was extraordinary! Very strong skilled facilitator that held an amazing space and responded to the whole of the groups needs while also pushing us …
Vanessa was phenomenal! She did her best to value and encourage each opinion while answering questions / asking or clarification… She did her best to foster an environment inclusive of all and encouraged dialogue.
Vanessa was a fantastic facilitator and really paid attention to the feelings and needs of the group.
Vanessa is amazing, inspiring, well informed and keeping track of the group.
Facilitators were incredible! Maintained dialogue … extremely well.
I came to this training ready to learn and improve my leadership skills and I definitely did that.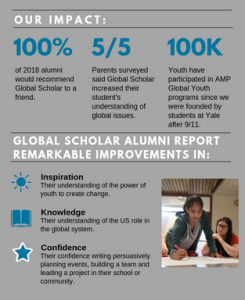 Global Scholar alumni have gone on to attend schools like Harvard University and McGill University. Some recent achievements our alumni have been able to attain include:
Serving as president of their class at Columbia University;

Being the coordinator of the AMP Global Youth network (while also pursuing a joint BA/MD honors program at Brooklyn College);

Launching a version of Global Scholar in their home country of Ghana; and

Joining prestigious gap-year programs before starting college.
After their time with Global Scholar, most alumni also continue to stay involved with AMP Global Youth.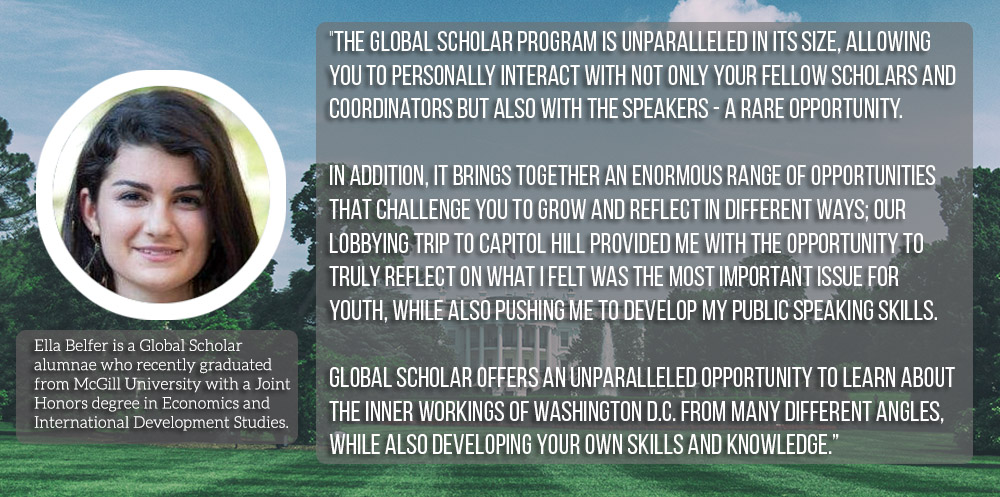 Global Scholar Parents
"My son…was glad to be part of a diverse yet cohesive group. He met people of all different backgrounds, which enabled him to see world events through different points of view. And they all shared contact information so I am hoping that they can stay in touch."
Global Scholar parents overwhelmingly endorse the program. Those surveyed consistently rank our program 5 out of 5 for improving their teenager's understanding of global issues. Global Scholar also has 100 percent satisfaction from parents and participants.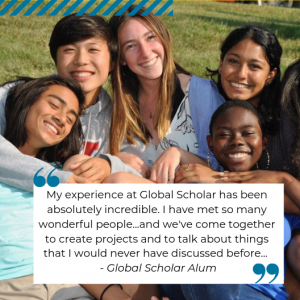 Voices from Global Scholars