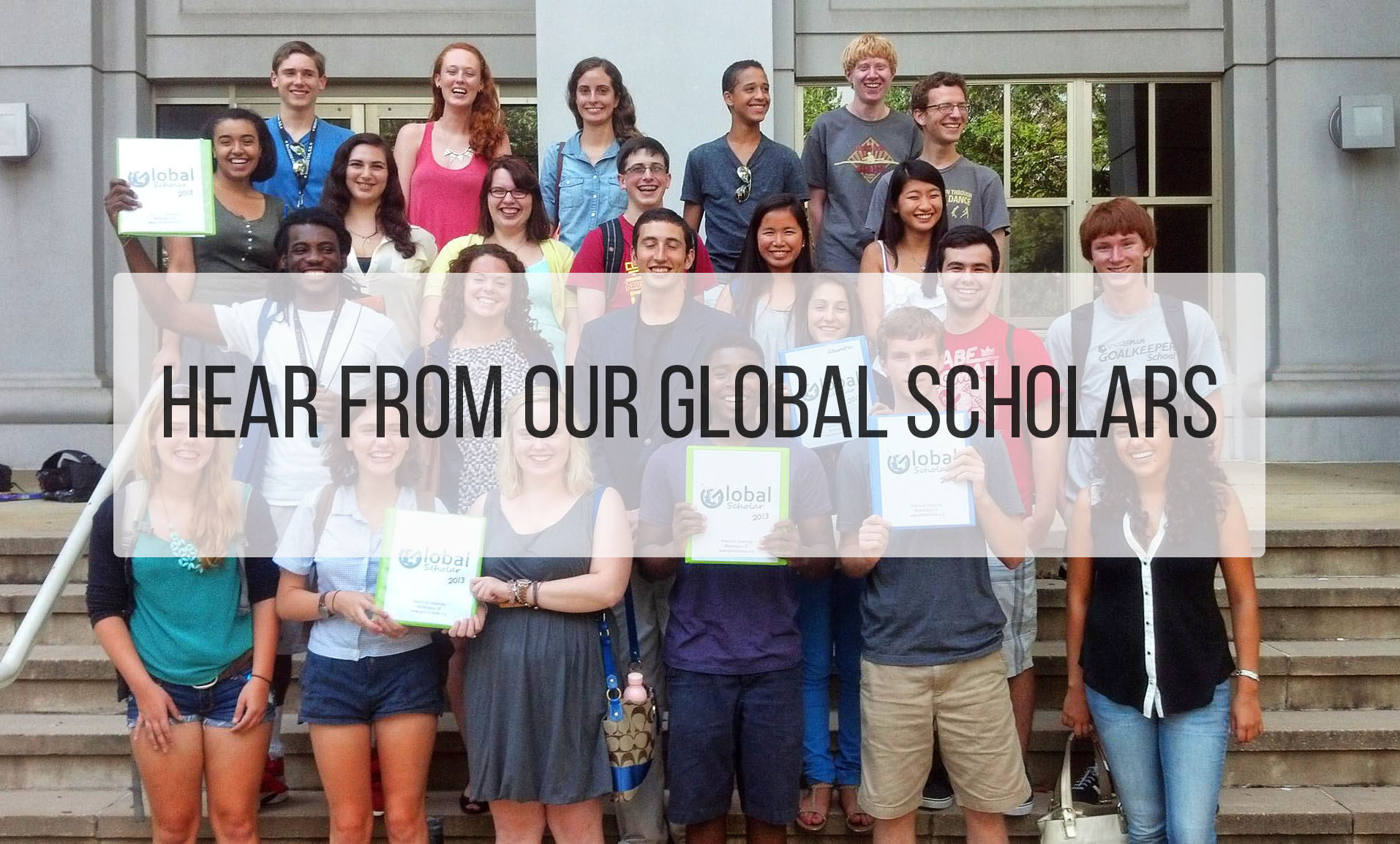 Global Scholar values our selectively small cohort of student leaders. Through our program's uniquely small size, Global Scholar is designed to help these young global leaders acquire the knowledge and skills they need through hands-on learning and meetings with leading policy experts. Year after year, our participants increase their understanding of new and continuing global challenges – all while building their confidence as leaders.
Global Scholar Alumni
"Global Scholar was a life-changing experience. We learned about many different global issues facing our generation, but we also learned about how the youth of today, as global citizens, can make a positive change in our world and actually work to put an end to these global issues. Being in DC and visiting embassies, NGOs, think-tanks, and others was not only exciting, but they showed us how diverse the field of international development really is. I never thought I could become so close with people over the span of two weeks, but I ended up meeting some of the most driven, curious, and friendly people ever! Global Scholar exceeded my expectations in every way, and I would do it again in a heartbeat."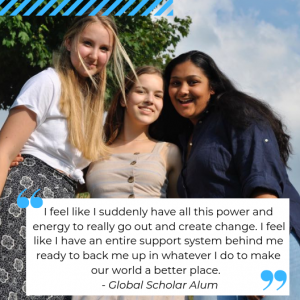 Quotes from the 2019 class:
It's an unforgettable experience. You will learn so much and have tons of fun at the same time.
Global Scholar was a really wonderful program that opened my eyes to different ways to make change and think about the systems that make up our world.
I loved the people and the places we went.
I really enjoyed this program – you'll get to meet lots of really interesting people and learn about careers and topics you never knew existed. Wonderful choice for anyone hoping to think deeply about the world and their role in it.
Global Scholar was engaging, interesting, and and insightful experience
It was an unforgettable once-in-a-lifetime experience that I wouldn't have been able to receive anywhere else– more than anything I could've ever imagined going into the program.
Global Scholars was a fantastic experience both in how it exposed me to information and ideas of which I care deeply and want to continue thinking about as well as introducing me to similar minded,intelligent students that provide fascinating perspectives and wonderful company.
The people made the experience wholesome and complete.
The Action Labs challenged my understanding about myself, my community, and those surrounding me. I now have a greater grasp of others' outlooks after discussing personal and deep topics regarding race, sexual orientation, gender, and other forms of inequalities with the 30 other scholars. I no longer have the fear to engage in dialogue with those I may disagree with, while still maintaining a civil behavior because of Global Scholar's safe space.
This experience has been eye opening and I learned so much is such little time. This program was loads of fun and the action labs were very informative and engaging. I would tell a friend this program is fun but can get quite real and serious but that they'll learn a lot of things.
Global Scholar was extreme fun and inspiring. I have gotten to know so many people and have realized my true potential.
Global Scholar was the best thing, in my opinion, that I could've done to further my knowledge on IR. I made so many great friends and hope to see all of them go far in life.
The program allowed me to explore every field in international affairs. I would tell a friend that this is a great experience to meet passionate and inspirational people. It opened up my mind to see what I was capable of knowing and doing.
I really enjoyed the Global Scholar experience. I was able to learn a lot more about the complexity of world issues and there solutions, along with meeting a lot of great friends. I would definitely tell a friend to apply.
I would tell a friend that Global Scholar was a great experience for the high school journey especially if thinking of a future in global work, international relations, policy, or just helping others/making change. I would tell them how it really helped clear up my idea of a future career in my head, and I met some amazing and very smart people with great ideas.
Overall the experience was great . I grew more confidence when it came to communication . I was given the opportunity to meet a lot of people and I learned a lot of things from the whole program . I grew a bond with all the other scholars and teachers . We didn't just learn we also played games and activities. The experience was overall fun and amazing .
I absolutely loved the program. I would tell a friend about how we take public transportation all over the city and have conversations with experts and professionals.
Global Scholar was an educational and eye-opening experience. The Action Labs and DC visits taught me a lot. The instructors were extremely supportive and helpful throughout the program, which made it much easier to adjust to the new environment. Finally, the fellow Scholars were amazing and I formed many close friendships.
Global Scholars opens your eyes to issues and solutions you'd never have dreamed about until this point. It makes you take those vital steps back to look at the bigger picture and identify the roots of what you are seeing. Something so seemingly complex can be a little more manageable that way, and speaks to the interconnectivity of all that surrounds us.
When I left Global Scholar early Sunday morning, it had not hit me that the program was over. The realization happened once I sat in the airplane. I haven't attended any summer programs before Global Scholar, but AMP surpassed all of my expectations. When I first arrived, I was nervous and unsure of what to say or how to act. I spent the first day walking around in a new environment with complete strangers, making as much small talk as I could. It was only until our first reflection as a group when I realized AMP was worth it.
For me, the connections and conversations that I made with the other students and coordinators surpassed many of the meetings with the actual speakers. I would tell a friend to listen and participate as much as they can, during both reflections and meetings, even if they are hesitant, because it will be worth it in the end.
You have to be committed and willing to step out of your Comfort zone. I personally loved the program because I got explosive things that help me create a path for my future.
Besides the learning bit, I believe the people were a perk. I was fortunate to meet people that I now value as amazing friends.
Global Scholar was incredible. It's not often you get to meet and bond with so many different people coming from all across the country and even globe. It is a fast pace program that I think needs a passionate person about world issues to absorb all of the information. However, I believe the intensity of it is what made the speakers and workshops that much more exciting.
I enjoyed the experience a lot! Some of the experiences really changed the way I view my own future and it opened a lot of possibilities as well as changed the way I perceive the world.
It was a truly great experience.
This program excites imagination and a drive to want to make a difference locally and globally. Even more than just expanding my knowledge on international relations, it really made me question my judgements and what I consider normal. I had to reflect n my own actions a lot and noticing my own flaws that I didn't even know I had forced me to think about certain issues more carefully. I grew a lot as a person over the trip.
I have learned so much and understood things from different people. I have become more aware of my actions and the impact I can have. I also realized how much power I have to make change and that I shall not let anyone stop me from achieving my goals. Of course I would tell a friend
Global Scholar was a completely different experience than I thought it would be. It was not sitting in a desk all day, watching someone else speak at you. It was visiting organizations, meeting the changemakers and learning about their impact in Southeast Asia, Rwanda, Cameroon, and so on. It was asking your role models questions, pressing them on issues that even they may be unfamiliar with, and visiting your representatives offices on Capital Hill, because they work for you!
The Global Scholar experience is nothing like I expected. I expected to be bombarded with knowledge about international policy, political leaders, and a multitude of different organizations. And while yes we did a bit of that, it was not all we did. We built our emotional intellect, we spoke with each other which in itself is an education of sorts, and although at first my heart was not happy with the lack of statistical information, as the time went on, I realized I learned something much more valuable: how to be a global citizen in our world: how to promote change: how to voice my opinions while appreciating others: how to recognize that not all accomplished people have accomplished much. IF you don't know what global citizen ship is then I guess you have to come and find out what it means and how to be one.
It was a truly immersive program that allowed me – hopefully others too – to understand international relations and global citizenship firsthand through interactive activities and meeting professionals in the sector, as well as issues that arise from these topics and how to brainstorm solutions. Plus, it enabled me to get perspectives from other backgrounds of life allowing me to expand my open-mindedness and learn about societies' systems other than mine.
I was fortunate to meet people that I now value as amazing friends.
AMP Global Scholar was an experience I would never trade for any other. It is amazing how this program brought people from various ethnicities, cultures, and regions of the world together. Getting insight into their perspectives has helped expand how I see the world.
It was an incomparable experience. I met so many people and learned a lot of surprising things. I always want the world to be better, but this is a little step towards continuing to do that in the rest of my life. I made so many friends and got to do things I don't think I could as an individual.
Quotes from the 2018 class:
I really just loved meeting and connecting with people who do what I want to do.
Global Scholar helped me learn more about global issues and how I can take action to address them.
It made me feel like a leader.
You can be the change in the world, but only if you actually put yourself to something that you really care about
be the change you wish to seek in the world
Those who learn are the future
It completely changed my perspective on the world and how to have an impact in it.
It's more than just global issues.
You have to follow whatever interests you–whatever "makes your eyes light up." (from career panel).
I have no delusions about what I have just experienced -I'm not a ready made President post global scholars, nor am I entirely knowledgeable on every subject. But I have been equipped with the skills I need to delve further and the information I need to be a game changer with a well rounded view of the world. Global citizenship is about my care and compassion not being confined to the boundaries of my home. I am ready to love openly and act widely.
You must remember that everybody has not had the same privileges and opportunities as you, and you must be aware, but not ashamed, of that.
Enlightening.
This program helped explore problems facing our generation and how to address them in the best way possible
Global Scholar brought together an incredible, inspirational group of young people that have already changed the world, and I can't wait to see how we continue to do so.
Global scholar helped me understand how to speak my mind
Additional testimonials about the impact of our training programs:
Vanessa was extraordinary! Very strong skilled facilitator that held an amazing space and responded to the whole of the groups needs while also pushing us …
Vanessa was phenomenal! She did her best to value and encourage each opinion while answering questions / asking or clarification… She did her best to foster an environment inclusive of all and encouraged dialogue.
Vanessa was a fantastic facilitator and really paid attention to the feelings and needs of the group.
Vanessa is amazing, inspiring, well informed and keeping track of the group.
Facilitators were incredible! Maintained dialogue … extremely well.
I came to this training ready to learn and improve my leadership skills and I definitely did that.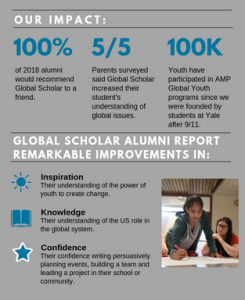 Global Scholar alumni have gone on to attend schools like Harvard University and McGill University. Some recent achievements our alumni have been able to attain include:
Serving as president of their class at Columbia University;

Being the coordinator of the AMP Global Youth network (while also pursuing a joint BA/MD honors program at Brooklyn College);

Launching a version of Global Scholar in their home country of Ghana; and

Joining prestigious gap-year programs before starting college.
After their time with Global Scholar, most alumni also continue to stay involved with AMP Global Youth.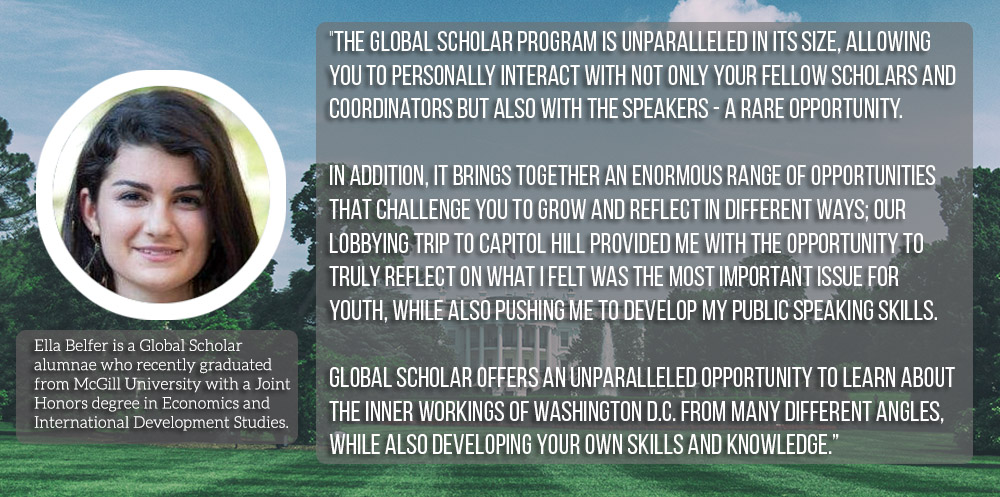 Global Scholar Parents
"My son…was glad to be part of a diverse yet cohesive group. He met people of all different backgrounds, which enabled him to see world events through different points of view. And they all shared contact information so I am hoping that they can stay in touch."
Global Scholar parents overwhelmingly endorse the program. Those surveyed consistently rank our program 5 out of 5 for improving their teenager's understanding of global issues. Global Scholar also has 100 percent satisfaction from parents and participants.
Quotes from Parents:
"My daughter had a great time, learned a lot, and saw how rewarding summer programs are. She was telling me how great and helpful the students of the group were. She also told me how the program helped her realize how global issues are not easy to solve one way, basically explaining the complexity of the issues. I think it made her realize that these problems are continuous, but there is always work that needs to be done. I also hope she stays active in global issues, and I'll be there with her along the way."

"I wanted to thank you for providing my kid with such an incredible learning opportunity over the last two weeks. Every time I spoke with her, she was so excited about all of the experiences she was having. It is clear that you run an excellent program."

"My daughter has had an amazing time and speaks highly of all the leaders. I can't wait for her to get home and tell me all about it. Thank you so much for putting on a great program!"

"This summer, my daughter attended the AMP Global Scholar program. As my daughter said, the program was exemplary; informative and extremely educational workshops; broad coverage of important topics; different aspects of global issues; qualified instructors; and very interesting panel discussions and visits. The program also had a good mix of educational and fun moments including the Fourth of July fireworks and sightseeing around the National Mall. I heard very good feedback about Vanessa, Director of Training, my daughter said her workshops were one of the best parts of the program. Special thanks to Karen Showalter, Executive Chair. I would definitely recommend this program to any student seeking a career in International Relations."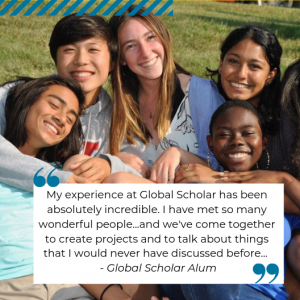 Voices from Global Scholars