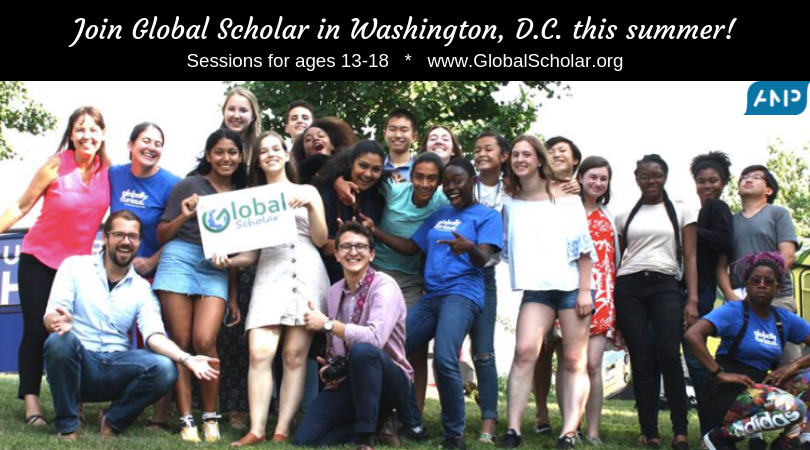 Global Scholar is an international relations summer program that builds the knowledge and skills high school students need to make social change on a local and global scale. Through hands-on learning and meetings with leading policy experts, Global Scholar empowers young and emerging leaders to become change makers on their college campuses and in their local communities. Recent graduates of the program have enrolled at top institutions like Harvard, Columbia, the University of Chicago, McGill University, and others. Global Scholar alumni have also gone on to work with leading organizations like the United Nations.
About Global Scholar
Founded in 2006, AMP Global Youth created Global Scholar as an immersive global leadership program for young achievers eager to build a more just and sustainable world. Based at American University in Washington, D.C., the small, selective program informs and empowers young global leaders – right in the city where policy gets made.
The Global Scholar Approach
Global Scholar offers a unique curriculum that combines intimate policy seminars and guest lectures from foreign policy experts with lots of hands-on, workshops, and simulations. This gives our Global Scholars with the knowledge and skills to become successful students, citizens, leaders, change makers, and professionals in our increasingly globalized world. Over the course of two weeks, Global Scholars participate in:
Policy Seminars

led by experts working on key global challenges. Past seminars have included:

"Promoting Human Rights, and the Development of Women and Girls Worldwide"

and

"The Global Financial System: the Role of Corporations, Banks, Donors, and the International Financial Institutions"

.

Workshops

that help them build practical skills, including public speaking, policy making, persuasive writing, strategic planning, and branding & promoting a cause.

Meetings and lectures

with/from foreign policy experts representing top government bodies and independent organizations, including the

U.S. Department of State

, the

World Bank

, the

United Nations Foundation

, the

Brookings Institution

, and the

Harry Potter Alliance

.

And so much more. Learn more about the Global Scholar curriculum.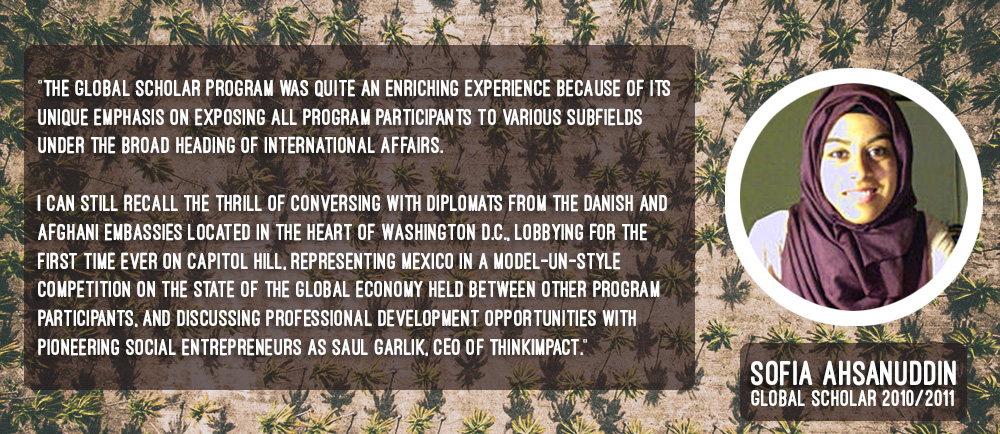 AMP Global Youth has 15 years of experience empowering youth to understand and speak out about global issues. More than 100,000 students have participated in our various programs. Throughout the years, Global Scholar alumni have continued to engage with our rapidly growing network of global student leaders. You can read more about Global Scholar's impact here.
Apply to be a Global Scholar! Spots are limited and applications will only be accepted until the program is full. Tuition and scholarship information can be found here.


Sign-up for our e-newsletter to receive program updates.
Contact us to learn more: contact us: 202.709.6172 or globalscholar@aidemocracy.org.