Global Scholar is an international relations intensive program that builds the knowledge and skills high school students need to make social change on a local and global scale. Through hands-on learning and meetings with leading policy experts, Global Scholar empowers young and emerging leaders to become change makers on their campuses and in their communities.
Recent graduates of the program have gone on to lead student organizations; work for international organizations, the UN, the State Department and more; participate in prestigious gap year and language programs; and enroll at top institutions like Harvard, Columbia, the University of Chicago, McGill University, and more. Most importantly: they've developed a good sense of how they can have an impact on issues they care about, and launched their careers with a firm sense of purpose and strong set of skills to succeed.
2020 American University Dates:

Session 1 (Grades 11-12): June 28-July 10, 2020
Session 2 (Grades 9-10): June 28-July 10, 2020
Session 3 (Grades 11-12): July 12-July 24, 2020
Session 4 (Grades 9-10): July 12-July 24, 2020
* Sessions are for students entering these grades (or equivalent) in fall 2020.

About Global Scholar
Founded in 2006, AMP Global Youth created Global Scholar as an immersive global leadership program for young achievers eager to build a more just and sustainable world. Based at American University in Washington, D.C., this small, selective program informs and empowers young global leaders – right in the city where policy gets made.
Global Scholar is a program of AMP Global Youth, which was founded in 2002 by students at Yale with the goal of helping students explore the US role in the world following 9/11.

The Global Scholar Approach
Global Scholar offers a unique curriculum that combines intimate policy seminars and panels from foreign policy experts with our carefully curated hands-on training workshops. This gives Global Scholars the robust knowledge and marketable skills to become successful students, citizens, leaders, change makers, and professionals in our increasingly globalized world. Over the course of two weeks, Global Scholars participate in:
Policy Seminars

led by experts working on key global challenges. Past seminars have included:

"Promoting Human Rights, and the Development of Women and Girls Worldwide"

and

"The Global Financial System: the Role of Corporations, Banks, Donors, and the International Financial Institutions"

.



Expert panel discussions

with/from foreign policy experts representing top government bodies and independent organizations. Past speakers have included the

U.S. Department of State

, the

World Bank

, the

United Nations Foundation

, the

Brookings Institution, Oxfam America, the Aspen Institute, CARE, the Global Campaign for Education, and many more

.

Training workshops that build powerful skills including public speaking, problem analysis, persuasive writing, strategic planning, team building, media literacy, diversity & inclusion, arts and activism, and more.
And so much more… Learn about a typical Day in the Life of Global Scholar and about the Global Scholar curriculum.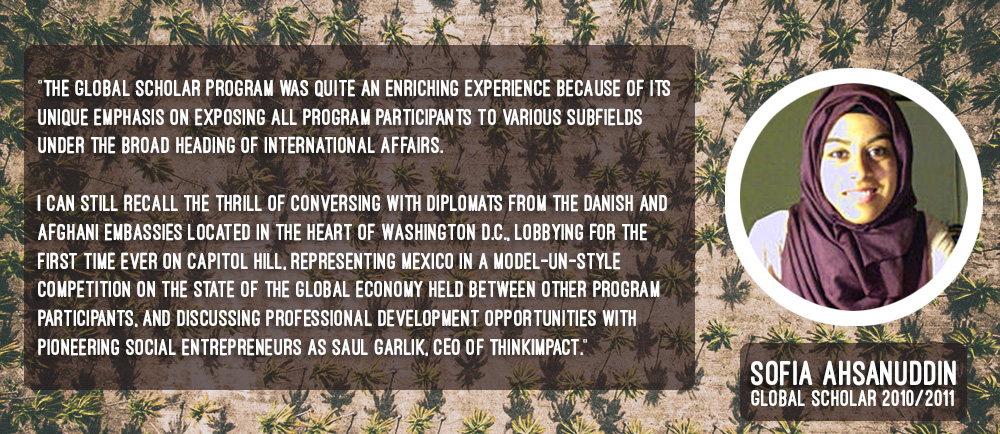 AMP Global Youth has 15 years of experience empowering youth to understand and speak out about global issues. More than 100,000 students have participated in our various programs. Throughout the years, Global Scholar alumni have continued to engage with our rapidly growing network of global student leaders. You can read more about Global Scholar's impact here.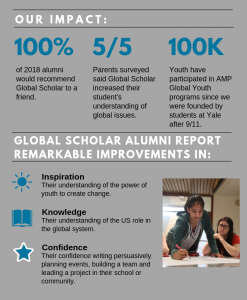 Apply to be a Global Scholar! Spots are limited and applications will only be accepted until the program is full. Tuition and scholarship information can be found here. Check out what our Global Scholar alumni have to say about Global Scholar in this short video!
Global Scholar 2019 Speakers and Sessions Included:
New York City
Access to Education. Jennifer Rigg, Executive Director, Global Campaign for Education
Unifying the Playing Field: Local and Global Movements to Advance the Right to Education. Ford Foundation
Understanding the United Nations and the SDGs. Charlotte Platt and Johan Rifai, UN Foundation
Challenges to Global Health. Doctors Without Borders
Water Access. Annalise Bourgeois, Charity: Water
Financing for International Development. Oliver Schwank, Senior Economic Advisor, United Nations
Global and Nuclear Security. Karim Kamel, Carnegie Corporation
Careers in International Affairs. Sampson Oppedisano, The New School and Aisha Mitchell, Global Health Corps
Understanding Immigration Challenges. Ella Nimmo, Cabrini Immigrant Services
Protecting and Promoting Human Rights: Women's and indigenous Rights. Fadimata Walet Inorene, Save the Children and Grace Fernandes, STAND Now
Journalism and Digital Privacy. Jennifer Valentino Devries, The New York Times
Interfaith Organizing and Action. Frank Fredericks, WorldFaith
Washington, DC
Perspectives in Human Rights. Bama Athreya, Brookings Institution
Youth & Global Health. Nicole Gill, Advocates for Youth
Conversation with Ambassador Liberata Mulamula. Ambassador Liberata Mulamula, Former Tanzanian Ambassador to the US
Advancing Human Rights: Perspectives from the Grassroots. Fadimata Walet Inorene, Save the Children and Grace Fernandes, STAND Now
Embassy of Cameroon
Nuclear Security. Ambassador Bonnie Jenkins, Brookings Institution
Access to Education. Jennifer Rigg, Executive Director, Global Campaign for Education
The United Nations and Sustainable Development Goals. Taylor Gates, UN Foundation and Anna Mahalak, Youth Engagement Manager, United Nations
Understanding the World Bank. Nadia Merdassi, Program Officer, World Bank
Embassy of Belgium
Immigration and Refugees. Josh Utter, Jesuit Refugee Services
Global Poverty and Inequality. Ken Patterson, RESULTS JRS
Climate Change. Tan Copsey, Climate Nexus
Careers in International Affairs Panel I. Mo Alem, Young Invincibles, Parul Agarwal, World Bank and Briana Suarez, APSIA
Careers in International Affairs Panel II. Brionne Dawson, US Chamber of Commerce, Mariya Ilyas, US Department of State, Gordon Wong, ONE Campaign and Briana Suarez, APSIA
Climate & Security. Neil Bhatiya, Center for a New American Security
International Development in Africa. Kwaku Nuamah, American University
Global Poverty and US Foreign Assistance. Gordon Wong, ONE Campaign
US Department of State. Deborah Schneider and Jasmine White Gibson, US Department of State
Global Security. Greg Gershuny, Energy and Environment Program, Aspen Institute, David Forscey, Cyber and Technology Program, Aspen Institute and Jonathan Price, Aspen Strategy Group, Aspen Institute
Embassy of Colombia
Frederick Douglass House
Supporting Children and Ending Hunger. Rachel Merker, First Focus
Embassy of Niger. Ambassador Abdallah Wafy, Embassy of Niger
Mexican Cultural Institute. Sebastian Corrales, Public Relations Officer, Embassy of Mexico
Meet our program directors, Vanessa and Karen!



Sign-up for our e-newsletter to receive program updates.
Contact us to learn more: call 202.709.6172 or email globalscholar@aidemocracy.org.