Global Scholar is an international relations summer program that builds the knowledge and skills high school students need to make social change on a local and global scale. Through hands-on learning and meetings with leading policy experts, Global Scholar empowers young and emerging leaders to become change makers on their college campuses and in their local communities. Recent graduates of the program have enrolled at top institutions like Harvard, Columbia, the University of Chicago, McGill University, and others. Global Scholar alumni have also gone on to work with leading organizations like the United Nations.
About Global Scholar
Founded in 2006, AMP Global Youth created Global Scholar as an immersive global leadership program for young achievers eager to build a more just and sustainable world. Based at American University in Washington, D.C., this small, selective program informs and empowers young global leaders – right in the city where policy gets made.


The Global Scholar Approach
Global Scholar offers a unique curriculum that combines intimate policy seminars and panels from foreign policy experts with our carefully curated hands-on training workshops. This gives Global Scholars the robust knowledge and marketable skills to become successful students, citizens, leaders, change makers, and professionals in our increasingly globalized world. Over the course of two weeks, Global Scholars participate in:
Policy Seminars

led by experts working on key global challenges. Past seminars have included:

"Promoting Human Rights, and the Development of Women and Girls Worldwide"

and

"The Global Financial System: the Role of Corporations, Banks, Donors, and the International Financial Institutions"

.



Expert panel discussions

with foreign policy experts representing top government bodies and independent organizations. Past speakers have hailed from the

U.S. Department of State

, the

World Bank

, the

United Nations Foundation

, the

Brookings Institution, Oxfam America, the Aspen Institute, CARE, the Global Campaign for Education, and many more

.

Our signature AMP Action Lab workshops, which provide rising young leaders with powerful, marketable and life-changing skills they'll need to spark action and lead change. Topics include: Diversity & Inclusion; Systems Thinking; Dialogue and Empathy Mapping; Strategic Planning for Social Action; Strategic Communications and Storytelling; and Action Planning.
And so much more… Learn about a typical Day in the Life of Global Scholar and about the Global Scholar curriculum.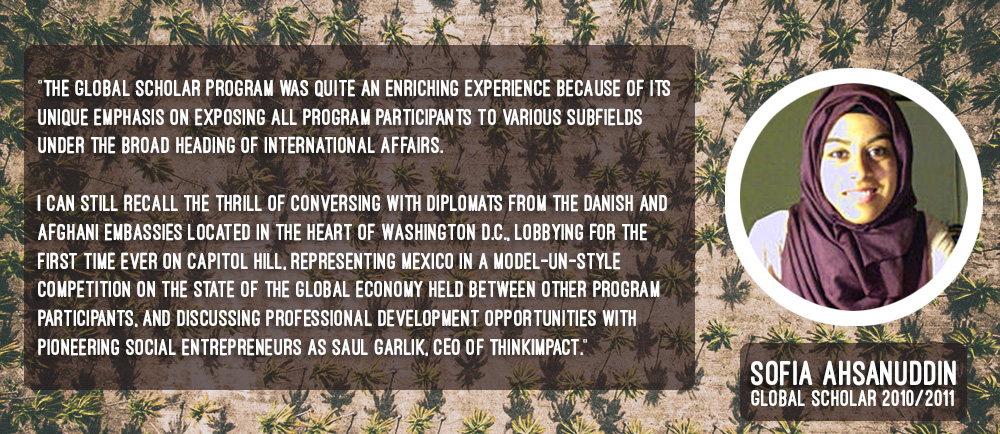 AMP Global Youth has 16 years of experience empowering youth to understand and speak out about global issues. More than 100,000 students have participated in our various programs. Throughout the years, Global Scholar alumni have continued to engage with our rapidly growing network of global student leaders. You can read more about Global Scholar's impact here.
Apply to be a Global Scholar! Spots are limited and applications will only be accepted until the program is full. Tuition and scholarship information can be found here. Check out what our Global Scholar alumni have to say about Global Scholar in this short video!
We would like to extend our gratitude to recent Global Scholar partners and speakers:
Ambassador Bonnie Jenkins, Brookings Institute * Jim Riker, University of Maryland * Ambassador Hassana Alidou, Embassy of Niger *Naomie Pierre-Louis and Dr. Weibert C. Arthus, Minister Counselor, Embassy of Haiti * Embassy of Mexico * Embassy of Burkina Faso * Donata Secondo and Chris Crawford, Democracy Fund * Giulia McPherson, Jesuit Refugee Services * Daniel Tutt, Unity Productions Foundation * Mac Hamilton, STAND * Andrew Slack, Imagine Better * Lily Mengesha, Jesuit Refugee Services * Jennifer Rigg, Global Campaign for Education * Patricia Langan, Save the Children * Tony Stephens, American Council for the Blind * Damiana Astudillo, Millennium Challenge Corporation * Rachael Leman, Care.org * Anna Mahalak, UN Association * Chitra Panjabi, SIECUS * Beverly Wheeler, DC Hunger Solutions * Jonathan Price, Aspen Institute * Lena Minchew, International Women's Health Coalition/Girls Not Brides USA * Mark Bromley, Council for Global Equality * Sara Shirzad, Eurasia Foundation * Alexandra Toma, Peace and Security Funders Collaborative * Neil Bhatiya, Center for a New American Security * Patty Lovera, Food and Water Watch * Carmen Iezzi Mezzera and Enrique Sondakh-Dorantes, APSIA * Marques Anderson, Peace Corps * Scott Rechler, Director and CEO, Learn-Serve International * Tina Gaddy, Associate Director of Graduate Student Career Development, George Washington University Elliott School of International Affairs * Jorhena Thomas, Principal, Wright Thomas International * David Fletcher, Director of Career Services, American University School of International Service * David Devlin-Foltz, the Aspen Institute * Rachel Sims, National Democratic Institute *
Call us anytime to learn more: 202.709.6172 or email us at: globalscholar@aidemocracy.org.