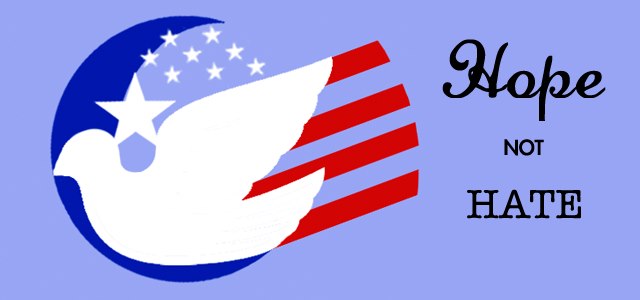 In a world that is so interconnected and diverse, we continue to face forms of injustice that promote bigotry and xenophobia. It is a hate fueled by ignorance and fear that we, the young leaders of our generation, can put a stop to if we work together.
The Hope Not Hate campaign confronts the foundations of that hatred by ensuring that both Americans and the international community have nothing to fear from the "others" (nations, cultures, religions, etc.). We teach students that just because someone lives their life differently from them does not mean they are any less human or any less entitled to the same rights we enjoy. We challenge students to envision and help foster more effective and harmonious US relations with other nations and cultures. Because at the end of the day we all share common values and challenges, and we need to work together collaboratively and peacefully to build a more stable, prosperous and democratic future.
To date, our Hope Not Hate Initiative has engaged more than 20,000 students and citizens in two hundred communities from Georgia to Jordan.
This year we are encouraging students to speak out through our We are Stronger Together petition, which we will deliver to leaders in 2017.
Other resources:
More about Hope not Hate:
Our events have facilitated broad, inclusive dialogue between young leaders and Members of Congress, Ambassadors, journalists, military officials, scholars and even a head of state. Some of our events have also had a cultural component, including a conversation with MTV's Gideon Yago and a concert performance by Salman Ahmad, the leader of South Asia's biggest rock band, Junoon. The Boston Globe editorial board has called our Initiative and its focus on US and Muslim world relations "a victory of knowledge and inquiry over fear and blind pledges of revenge." The initiative has also received Search for Common Ground's Award for International Understanding in 2005 and our efforts to bridge the US-Islamic world divide have received special recognition from Former Secretary of State Madeleine Albright at the 2006 Clinton Global Initiative.