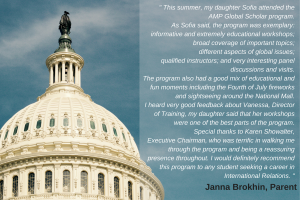 Housing
This summer, Global Scholar is once again returning to beautiful American University in Washington, D.C. American offers the perfect setting: the campus is green and peaceful, yet it's very accessible to downtown D.C.
We split our time between campus and downtown Washington. Many of the policy seminars take place in offices in downtown D.C., while many of the skillbuilding workshops take place on campus at American.
Scholars stay in one of the dorms at American, along with our staff. They are placed in well-equipped double or triple rooms, and share a bathroom with others on their hall. Laundry facilities, snack machines, a TV lounge and many other amenities are available in the dorm. The front desk is staffed 24 hours/day, and everyone entering or exiting the building must show an American University ID. This is a real college experience!
We share meals in one of the dining halls on campus, which offers hot items, a nice salad bar, daily specials, and plenty of vegetarian items. A coffee shop and a couple of fast food restaurants are also located nearby.
Scholars will have access to the athletic facilities at American, with their parent's permission.
Travel
We will pick up and drop off Scholars at their point of arrival in Washington, D.C.
Washington has good public transportation, and we use it as much as possible. It's a short shuttle ride from campus to the Tenleytown Metro Stop.
We will share details on arrival / departure, rooming assignments and more with those admitted to the program. Please contact us with questions: globalscholar@aidemocracy.org.
Safety
Safety is our top priority. American University is a quiet and safe campus. Our staff live in the dorms with Scholars. The dorms are equipped with a 24 hour security desk, and entry is only permitted with a key card. Although our days are full, Scholars will have a bit of down time to play frisbee, go the gym, or relax with friends. At all times they are required to inform our staff of their whereabouts, and travel in groups. Scholars are not permitted to leave the AU campus, or travel anywhere in the city, without Global Scholar staff. We are very happy to answer additional questions about safety and security during the program.