JOB DESCRIPTION:
Culturama is a digital game that connects youth in the US and the Middle East. The game is a groundbreaking and fun opportunity for students to build cross-cultural skills while having fun (smashing robots!).
You can help! We're looking for Campus Ambassadors to get the word out at the local level this fall. Ambassadors support outreach and recruitment for the game. This is a great opportunity for individuals with an interest in intercultural issues, social marketing, virtual exchange and global education.
Responsibilities include:
Getting the word out to staff and students at your school. This would include: dropping off info packets, showing short demos of the game, talking to professors and student leaders, etc.

Organizing and hosting 2 game sessions this semester. These are fun and social events, that sync nicely with existing club meetings / other gatherings. (We can even provide food!)

Creating and leading other fun outreach strategies for your community. Working with AMP staff, you'll strategize the most effective tactics for sharing the experience on your campus.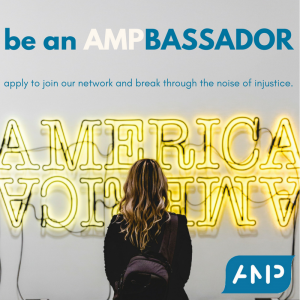 Learning opportunities include:
Ambassadors will also get one-on-one coaching and training opportunities, to build skills for outreach and communications. This is a great opportunity to practice:
Strategic communications and outreach

Pulling together fun events

Building connections and relationships with influencers on your campus
And it's paid! Ambassadors work an average of 3-4 hours/week for 8 weeks (Oct and Nov), and receive a $250 stipend.
To apply: Email opportunities@Aidemocracy.org with a short statement about why you're interested and why you're the best person for this position.