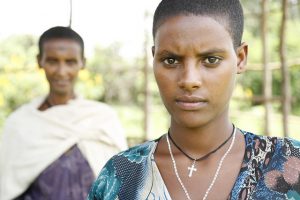 Above is a photo of a girl who was married when she was 13. This terrifies me, as I am just three years older than that girl from Ethiopia. I was fortunate enough to be born in the United States, and my parents allow me to make my own decisions. However, I have come to realize that this is not the reality for many young girls. Every 2 minutes, a girl under the age of 18 is married. I personally had no idea how often this actually occurred. With these marriages, the girl often faces abuse, early pregnancy, and has to drop out of school. This lack of education causes her to be dependent on the man she married and leaves her with limited options. The physical and mental effects of childhood marriage are also very degrading.
Seeing girls unable to be independent made me wonder what I could do to help these girls, especially since I know that there is no way I would be able to go through what many of these girls have had to face. Difficult problems on the other side of the world can appear very daunting, but we as United States citizens have more power than we think. I have learned that simply writing a letter to a Congressman about childhood marriage and encouraging them to do something about it can help. If Americans begin to speak out strongly against childhood marriage, other countries may take notice and start to push for change. This change would have moral and economic benefits. These girls that are forced into marriages often go straight to childbearing and are not able to receive an education or work. This takes away a large portion of the labor force, limiting the countries' economic resources.
At the age of 16, I know for certain I am not ready to be married. So why should other girls around the world have to experience this tragedy?
This blog post is authored by Maia Scott. It is a part of a series of campaign  and blog posts written by our incredible Global Scholars during the summer 2016 program. If you're a high schooler interested in studying international relations in D.C for summer 2017, you can look into the Global Scholar program here. Applications open soon! If you're a college student interested in our programs, we also offer a similar online version called Global Leader, held in the Fall. More information can be found here.