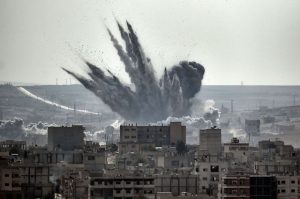 My name is Ramses and I'm from Virginia. Due to my diverse background (my mom is Panamanian and my dad was born in Peru), I have been able to see first hand how lucky I've been to have been born in the United States. However, I do not view my privilege as a hindrance; rather, it is a tool that I can use to help others achieve prosperity and privilege. My parents have always educated me to empathize with others and understanding the privileges I had been born with. For a long time I struggled with understanding how lucky I was and took it for granted.
One night when watching the news with my mom I saw pictures flash across the screen of the suffering that was occurring in Syria and other places that have been deeply affected by terrorist activities. In many of these refugee camps, they lack sufficient resources such as blankets, food, and even drinkable water. The average life expectancy for a refugee in a camp is 17 years, and over half of the refugees are children! I truly believe we are all brothers and sisters in the world, and we must do everything in our power to aid the suffering in the world. I understand there will always be conflict, but I envision a world where the refugees are able to live comfortably without having to worry about the impending winter, where there next meal will come from, or if their children will die because of the lack of proper nutrients in their meals. To achieve this world I envision, I plan to organize a supply drive in my local community to collect blankets, sleeping bags, food, and other materials that are necessary to live a comfortable life. In addition, one of the main problems that refugees face is not only the lack of essential living materials, but also a lack of necessary equipment to maintain an adequate education. Education is the key for many of these refugees, especially children, to restart their lives; thus, it is imperative for them to receive basic equipment like pencils, notebooks, and other learning tools. I implore you to join our movement by not only donating supplies for the refugees, but also by signing my petition asking our representatives to pass a bill to give more aid to the refugee camps.
This blog post is authored by Ramses Rubio. It is a part of a series of campaign and blog posts written by our incredible Global Scholars during the summer 2016 program. If you're a high schooler interested in studying international relations in D.C for summer 2017, you can look into the Global Scholar program here. Applications open soon! If you're a college student interested in our programs, we also offer a similar online version called Global Leader, held in the Fall. More information can be found here.