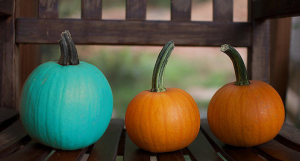 With Halloween right around the corner, it's easy to get lost in the excitement of all the candy, mischief, and festivities that come along with it. But it can also be a reminder that health is important not just in developing countries with dire situations, but even within our neighborhoods, in our everyday lives.
For children with food allergies and diabetes, Halloween is a fun time…until they are forced to relinquish about 75% of their prizes for the night due to an inability to eat them. When this happens, the children are often greatly disappointed as a whole because they are unable to enjoy as much of the holiday as their friends are.
Which is why Becky Basalone, one Tennessee mom came up with an idea. It's called the Teal Pumpkin Project: put a teal colored pumpkin outside your house and offer non-food goodies instead of candy. These treats can range from glow sticks to spider toys, Halloween stickers to tattoos–be creative! They're a way for these children to be included in the event. Food Allergy Research and Education, an advocacy group that supports the Teal Pumpkin project, even created an interactive map that shows about 10,000 homes that proudly offer the option of non-food goods on Halloween.
So how does this really relate to health? Global health is all about eliminating inequities, preventable differences in health that people face. In the case of Halloween, much of the fun is the very act of trick or treating, running from house to house with their friends. But when many of these children–approximately one out of every thirteen–are allergic to this candy and are forced to relinquish it, that greatly takes away from their experience and ends the night on a disappointed note. By offering other treats for children, the Teal Pumpkin Project is just one step towards equalling out the playing field and the experiences of these children.
It also lends itself to two other aspects of global health, the first being injury. If an allergic child were to accidentally eat a peanut and have a reaction, it is considered an unintentional injury. The second brings to light the fact that less candy will be offered, therefore less candy consumed as a general whole–limiting the intake of sugar for a demographic that already often eats too much of it, making our children healthier. In addition, understanding the reasoning behind the teal pumpkins in the first place raises awareness of the problem, spreading an understanding and eliminating part of the stigma that children might face because of their health status.
By curbing the availability of all the sugary goods–despite how much we may  love them–there a lot of positive effects that arise, all of which help our children.